Hello and welcome! Let me give you some details on what I do for weddings, cocktail hours, and other events. First of all, I'm a harpist and also a singer, so if there are any pieces of music you want sung as well, I can do that. Half the events I do are Solo Harp, and half are Harp & Voice, it's completely up to you, whichever you prefer.
For weddings, I play harp while guests are arriving (usually for the half hour before the ceremony begins), and then the processional & recessional and possibly pieces of music during the ceremony, depending on what you have planned, and then for a little bit afterwards while the guests leave.
And then for cocktail hours, parties, etc. I play (or play & sing) a good mix of songs, and also take requests from guests when possible. I have a small amp I bring, so the sound can be adjusted to as loud or soft as needed (and it can really be cranked up if needed, for outdoor weddings/events or large rooms, since my harp is electro-acoustic – full harp photo below). I also perform often as a duo/trio/string quartet with cello, flute, violin or pedal steel, which are beautiful combinations.
I play all types of music (classical, of course), with specialties of celtic, opera, and pop (Beatles, Bowie, Stevie Wonder, 50's, 60's, 70's, 80's on up to Lady Gaga).
You can hear solo harp audio clips here (as well as harp and voice, original, and Celtic).
I'm happy to send you a sample repertoire/song list for you to look through and choose favorites from, as well as a list of ceremony suggestions that I've found work really well, to help give you some ideas. You can also find a complete song list at the bottom of my Music page. And as always, I'm happy to learn song requests you might have that aren't already on my list, just let me know.
I also have a fantastic wedding planner to recommend — her name is Amanda Hudes and we've worked together on several weddings. Her website is Smiling Through Chaos. And here is a link to a Loverly article on a wedding we worked on together.
I also work often with the DJ Adrian Tau. His company is Upscale Salsa.
Please feel free to get in touch with me via email or by phone (917) 363-1161 with any questions or to discuss your upcoming event!
Best,
Erin
Here is a photo of me with my electro-acoustic pedal harp, V'ger. This is the harp I always bring to events (unless you'd specifically like to request a Celtic harp)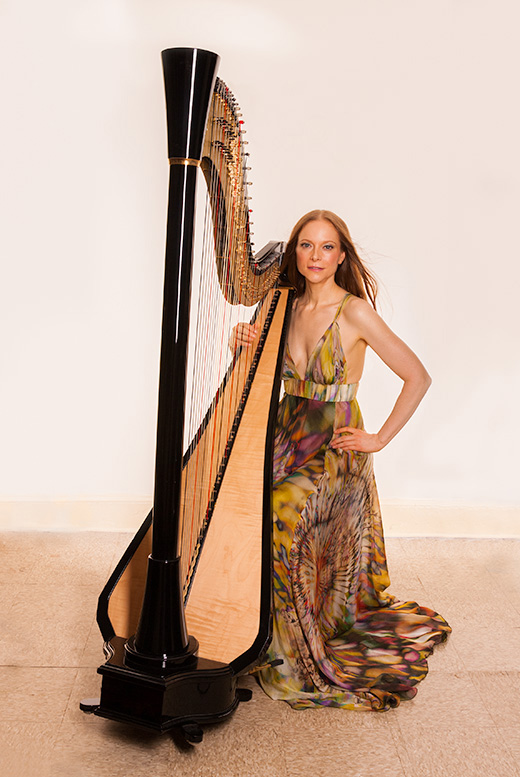 Photo by Robert A. Ripps