Dragon Con 2019! Aug. 29th – Sept. 2nd, Atlanta
Yes, Erin will be back at Dragon Con again this year with her electric harp Ylla! Her other electric harps, V'ger and Klaatu, will be holding down the fort back in NYC… Specific show times TBA. There will be… original Erin sci-fi songs!! Plus some fun covers and Celtic songs as well… Feel free to email me with any special requests beforehand, and I will take them into consideration!
Bowie show – Oct. 30th at The Cutting Room, NYC
Erin Hill: Harp Oddity! Rock harpist & singer Erin Hill is known for her arrangements of David Bowie songs on electric harp & vocals, from Space Oddity through Blackstar. On Halloween Eve, 2019, she brings her Bowie show to The Cutting Room in Manhattan, along with her band of drums, pedal steel, and strings. And in honor of Devil's Night, the audience is hereby invited to come dressed as your favorite Bowie, should you so desire!
$15 ticket link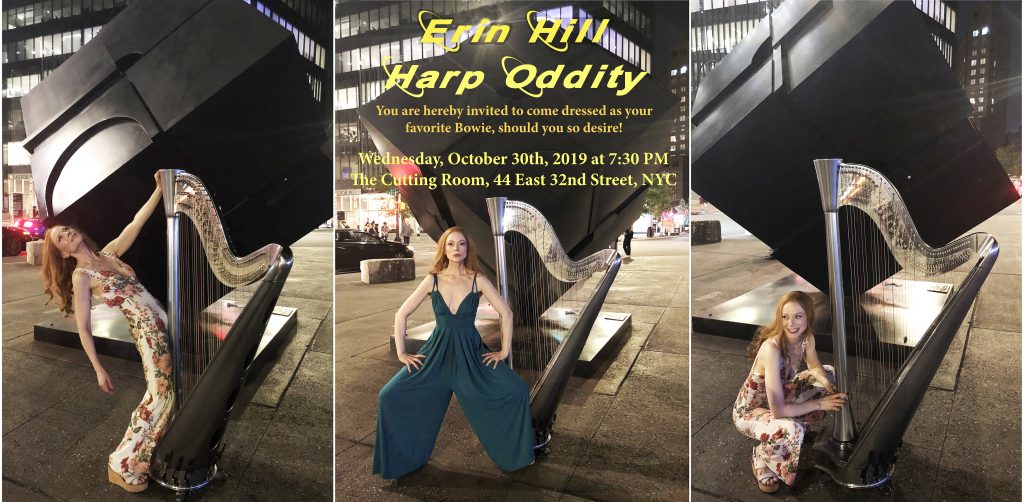 Christmas concert – Dec. 1st in Kentuckiana
Erin returns to St. Paul's Episcopal Church in downtown Jeffersonville, Indiana for a Christmas concert on Sunday, December 1st, 2019. The concert begins at 4 PM and will feature all sorts of Christmas music, including songs from Erin's harp & vocal album Christmas Harp.